Arizona Wants To Reopen NOW
Despite the fact Arizona businesses and the majority of it's residents want to reopen now, governor Ducey has threatened to fine, jail and strip business licenses of anyone who defies his strong arm XO.  Governor Doug Ducey threatened fines and potential loss of licenses for any businesses that plan to defy the extension of his stay-at-home order and reopen as early as Friday, as several business owners had told ABC15 they planned to do.  Arizona want to repoen now!  Arizona want to repoen now!
Organizers for a Facebook group called Great 48!, which has 22,000 members, are encouraging all businesses to reopen Friday despite messaging from the governor that extends his order "with modifications" until at least May 15.  Here's the thing that most people realize yet our political leaders do not:  "With modifications" only serves to exaggerate and extend the threat generated by propaganda.  Not only is there no science behind the social distancing and mediation measures currently imposed, more and more people are realizing these draconian measures have had virtually no effect on the spread of this virus.  In response to the governor's comments as reported on April 29th, 2020 he defended his XO by stating:
"To the small business owners who have said they will open no matter what, Gov. Ducey responds "this is an order that's enforceable by law (no, not constitutional law).  A violation is $2,500 fine and up to 6 months in jail." He said if you deny the order, you are "playing with your liquor license."
Rep. Kelly Townsend of Arizona stated "Ducey was acting unconstitutionally. She said she will propose a concurrent resolution that, if approved by the Legislature, would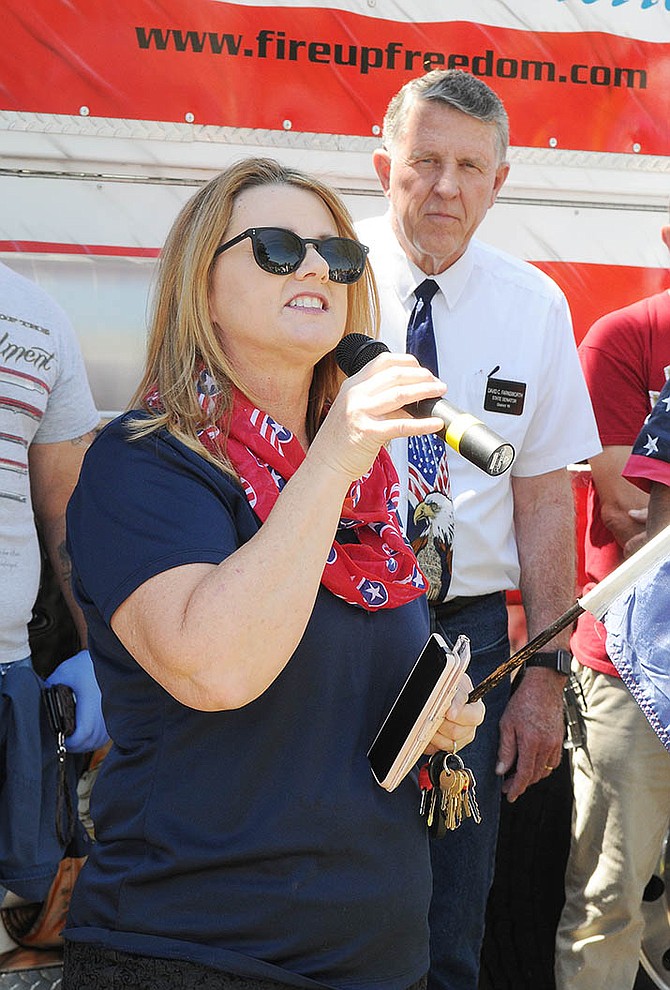 end the current state of emergency."
In a formal legal opinion, AG Brnovich pointed out that Gov. Doug Ducey, in his order, specifically permits people to engage in constitutionally protected activity, including religion and speech. But that order said these are allowed only to the extent they are "conducted in a manner that provides appropriate physical distancing to the extent feasible."
Rep. Kelly Townsend, R-Mesa, who requested the opinion, noted that that Ducey, in other parts of his executive order, specifically required separation of six feet.  
So, she asked Brnovich whether getting closer than six feet would put parishioners and others in legal jeopardy and subject them to the $600 fine and six months.  Brnovich, in essence, said no.  He pointed out there's no specific distance requirement when things like church services – and even rallies – are at issue, and that Ducey instead relied on words like "appropriate" and "feasible."  "This flexible language recognizes that what may be appropriate or feasible in one context may not be appropriate or feasible in another context," the Attorney General wrote.
Separately, Townsend and Sen. David Farnsworth, R-Mesa, sought to trim the governor's emergency authority. The pair told Capitol Media Services they are reviewing the laws that gave Ducey the right to declare an emergency in the first place, the precursor to his executive orders.
Townsend also remarked, "We are not a monarchy," she said. "And the people of this state should not be threatened to be put in jail for trying to make a living in a situation where the numbers that they talk about are nowhere close to what they told us they would be when they did this."
AG Barr also weighed in.  AG William Barr this week directed U.S. prosecutors to safeguard civil liberties amid state-level pandemic orders, he signaled Justice Department support for lockdown protesters by highlighting religious and economic rights.
In a two-page memo, the nation's top cop gave the clearest indication yet of the kind of battles federal prosecutors are likely to focus on. In doing so, Barr suggested the Department of Justice (DOJ) might back church groups and those seeking a swifter economic reopening while staying on the sidelines of fights over new limits on abortion and voting access.
"It's extremely likely that the DOJ will play favorites," said Lindsay Wiley, a law professor at American University. "I think it's accurate to assume that DOJ will not intervene in a neutral way, but will instead intervene on behalf of plaintiffs asserting rights the administration favors."
Related Topics: